The Fibonacci sequence appears in the smallest, to the largest objects in nature. It is a way for information to flow in a very efficient manner.
The actual Fibonacci sequence is this series of numbers: 0, 1, 1, 2, 3, 5, 8, 13, 21, 34. Simply put, the next number in the sequence is formed by adding up the previous 2 numbers. (0 + 1 = 1, 1 + 1 = 2, 2 + 1 = 3, and so on.)
The Fibonacci sequence is named after Leonardo of Pisa, who was known as Fibonacci. Though Fibonacci first introduced the sequence to the western world in 1202, it had been noted by Indian mathematicians as early as the sixth century.
The Fibonacci defines how the density of branches increases up a tree trunk, the arrangement of leaves on a stem, and how a pine cone's scales are arranged. Yet you will not see the Fibonacci everywhere, as nature has many different methods and shades of survival.
Strangely enough, my aversion to math could have been cured by introducing this mouth opening concept in my early middle school years. Plants equal unity in Universe…  Everything in the universe follows the exact same geometric pattern, over and over and over again. After researching this phenomenon, a small spark of mathematical appreciation is ignited again 🙂
Recently my family and friends went to one of those fun secret places, called Escape Rooms, where guests require to solve puzzles to get out of the locked rooms victoriously. There was no hope for me personally getting out of there, if not for my husband solving all the mysterious plots. The very last prompt for the door to be opened asked us to solve the Fibonacci sequence code. My husband laughed he should have paid more attention to this in college while he was the only one solving the sequence. In the end, we lost on time and were trapped until the place owner got us out. That was the first time I encountered the FS concept. Now, witnessing it in nature, my perception of the world is magnified to new proportions.
Here are some examples of sacred nature:
Pinecone
Nautilus Shell
Cabbage Fibonacci Sequence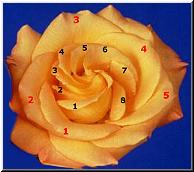 Intriguing and fascinating evidence of Universal Unity. It seems that the "awe" around is silent and consistent and is unaltered by today's drama.
Wishing you a smooth flowing memorable day,
Luda@PlantsandBeyond.com
Resources:
http://www.sciencenews.org/article/mathematical-lives-
http://www.sciencemag.org/news/2016/05/sunflowers-show-complex-fibonacci-sequences
https://www.amnh.org/learn-teach/young-naturalist-awards/winning-essays2/2011-winning-essays/the-secret-of-the-fibonacci-sequence-in-trees/
http://jwilson.coe.uga.edu/EMAT6680/Parveen/Fib_nature.htm
http://www.sussexflora.org.uk/resources/articles/fibonacci-series-plants/
https://www.goldennumber.net/plants/
https://www.niftyhomestead.com/blog/fibonacci-sequence-in-nature/
http://www.divinetemplatecreations.com/sacred_geometry/fibonacci.html
https://math.temple.edu/~reich/Fib/fibo.html
Disclaimer: None of the images belong to PlantsandBeyond.